"Hotels Need to Generate More Profit. Technology is the Main Driver Here!" – an Interview with Vassilis Syropoulos, Founder and CEO of Juyo Analytics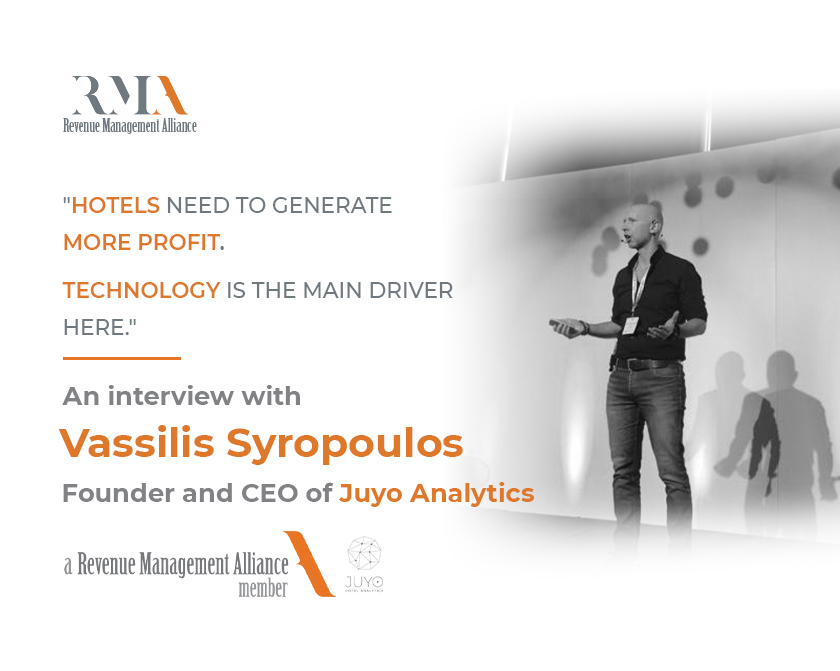 For those who haven't heard of Vassilis Syropoulos yet, he is the Founder and CEO of Juyo Analytics, which is probably the most advanced hotel analytics and data visualization platform in the hospitality industry.
Juyo Analytics won the Popular Vote as the most innovative new product in the Industry, at Opportunity 2020, Europe's leading revenue management conference. Moreover, they are also one of the founding members of the Revenue Management Alliance.
In this interview, we find out more from Vassilis Syropoulos about their vision, what makes them unique, and how they manage to adapt to the needs of their customers and to empower hotels to drive the most profitable businesses in spite of the many challenges the industry is facing.
What is the mission statement and the values of your company?
Our vision is to be THE data visualization and analytics company for the hospitality Industry. Think about it like being "the Tableau" of hospitality. Our mission is to empower hotel professionals to be able to easily put together rich dashboards and sophisticated analytics that connect the dots for their business. Currently, it's all about empowering hotel commercial teams to connect the dots and drive more profitable businesses: revenue management, distribution, marketing, digital. However, our mission will be to connect all the dots in hotel performance management. It will be about bringing more science to hospitality, but always through an easy-to-use platform.
Our values are centered around the individual. In a nutshell, we believe in the power of the individual whether it is our colleagues or our customers. What we do is make everyone a bit better every day in what they do. Another one is empathy. In order to understand what customers need, you need to have a deep sense of empathy and understanding both of the global business and also of what individuals struggle with and need. Finally, we believe we are part of an ecosystem in hospitality. We are open to work with everyone. What matters is pushing this industry forward and co-operation is the key.
What are the services your company provide?
In one word, we offer a powerful analytics platform. It's a SAAS model.
What type of clients does your company work with?
We work with all types of hotels although we skew towards medium to large companies and hotel groups. That said our smallest hotel is 9 rooms. So, we do add value to a wide range of properties. Any hotel could benefit from Juyo Analytics.
Why did you choose the RMA Alliance?
Above everything, we love working with great people and partners. It happens that the alliance members fit this greatly. Secondly, hotels don't always need only software but often a sparring partner, a helping hand to improve their business: outsourced revenue management or just consulting. Being part of the Revenue Management Alliance means for us that we can partner with great companies out there to add this on the table. Together we are stronger.
Which is the most successful project of your company so far?
I would have to say where Juyo all started which is when Pandox Hotels needed to centralize revenue management for multiple properties. We are still proud of what we accomplished there.
What was the biggest challenge for your company and how did you overcome it?
We had a lot of challenges. 90% of technology companies fail in their first years so the stakes are high. Thankfully, the vision has pulled us forward every single time. Believing in something really gets you far. This combined with great cashflow and forecasting skills. Certainly, Covid has been a challenge as our customers struggled to make ends meet. Thankfully, we have been around for a long time and are strong. But I would say the biggest challenge has been system integrations. I really did not expect this to be such a mess. My first famous words were: "This should be easy". That turned out to be very naïve. However, we persevered, and I can say today that we are proud of the data accuracy we deliver to our customers. We really went a long way.
What makes your company's services unique?
We can break it down in two areas: First of all, people. We come from within hospitality, so we speak hotel language. Furthermore, we make sure we have a personal contact with all our customers. We like to think of ourselves as a sparring partner. Not someone that sends you a renewal invoice every year. We obsess about taking our customers on a journey. A journey to mastery.
Secondly, it's the technology. And here there are multiple points. First of all, Juyo is the most flexible and easy to use dashboard and analytics builder. We call it JUYO Canvas. It's the heart of Juyo, as everything comes together here and it's super easy to use, yet powerful. Canvas enables hotels to break silos and collaborate. Secondly, it's data exploration. It's lightning fast and you can create literally thousands of views. We layer different dimensions of data on top of each other to add more context into the analysis. We go a step further. And that is probably the big one. We go a step. Often many steps ahead of what hotels expect. Push the envelope further in areas that have not yet been tackled yet and have a great impact. Think total Revenue Analytics and Net Revenue Analytics. No other company offers that depth and granularity.
How has the Covid Pandemic affected your business?
We touched upon the challenges in a previous question. However, it seems that there is a silver lining. Next 12 months we forecast to grow faster than any other year. So, the pandemic has accelerated appetite for analytics solutions. I think it makes sense. Hotels need to generate more profit out of less customers. Technology is the main driver here. We are very optimistic.
Why is now such a good time to invest in technology?
There are 2 ways of looking at it. One is: evolve or be left behind. Technology is now necessary for success. The other is that the risk is minimal today. Cloud solutions are easy to install, deploy and adopt. Furthermore, the cost has significantly dropped the last years. And last but not least, every crisis brings opportunities to reinvent a business. Now is the moment to rebuild everything in a new more efficient way.
What are the benefits the RMA brings to its members?
A global presence, co-operation, and synergies across all stakeholders. It's a win-win for everyone. I hope that this will set an example for more co-operation across the industry. Hotels need it. They are the ultimate winners. For us, if we have a challenge, a solution in a problem that we cannot solve ourselves, it is just a phone call away. No need to reinvent the wheel. Together is better.
For latest news you can follow the Revenue Management Alliance on social media: Facebook, Twitter, and LinkedIn.
Related posts