Posted on
16 June 2022
in
"Technology is not something which is only a temporarily fashion. It is something which defines decades of time and evolution in all areas of life" – an Interview with Maximilian Schmid, Managing Director & Founder of rm4u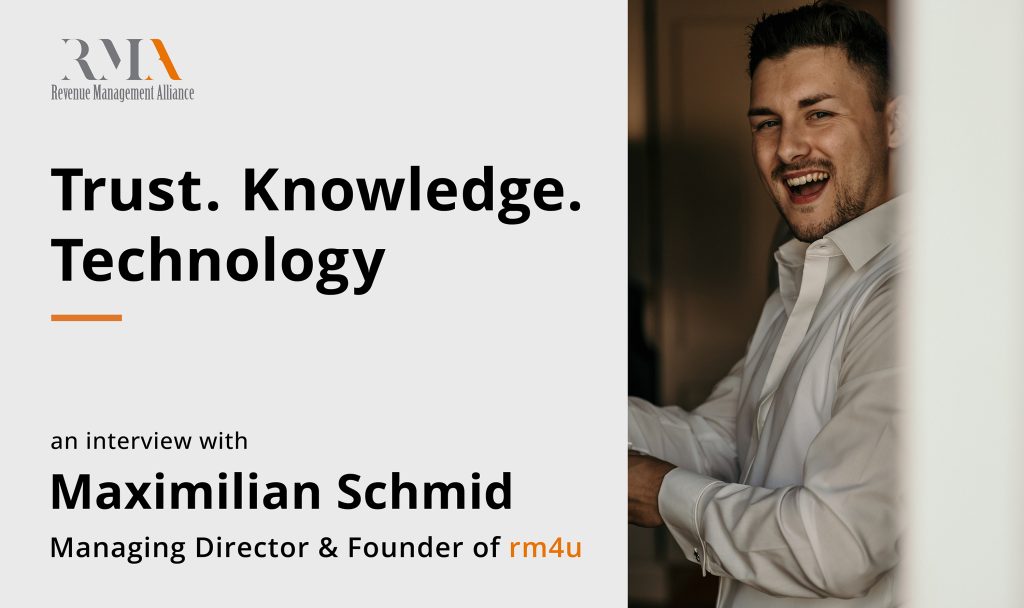 Find out more in this interview, directly from Maximilian Schmid, Managing Director & Founder of rm4u – Revenue Management Services about the services they provide, how they cope with challenges (including the Covid Pandemic) and what are the benefits the Revenue Management Alliance brings to their members.
What is the mission statement and the values of your company?
The mission starts with the company's name, "rm4u – revenue management for you" and means that we offer our professional service to "you" as a hotelier and especially to small to mid-size individual hotels which can't afford a revenue or distribution professional on their own. But why should they lack this? With modern technology and cloud-based systems, we can support even faster in difficult situations and provide the professional service a hotelier deserves nowadays.
Our values are clearly defined by 3 principles we follow: Trust – Knowledge – Technology.
Our clients can trust in who we are and in what we do. They can rely on our professional experience over decades and they can be certain we use modern technology to help them achieve the best results possible.
What are the services your company provides?
We offer different services to different requests from clients, but the main focus is on taking the revenue management tasks out of the hotel as an outsourced team / extended part of the hotel. The services we offer can be divided into 3 sections: Outsourced – Strategic – Systems.
Everything around outsourced services means everything to do with pricing, yielding, forecasting, budgeting, market comparisons, reporting and more. All daily actions from a revenue management perspective will be managed by us.
The strategic part is even more a sparring partner mode we offer and comes into conversation when there are more strategic/economical based planning around a hotel. It is more about defining and consulting new aspects of business and theoretical things or maybe a hotel where a revenue manager already is seated and we are just giving new impulses.
The last part is a very technical one and focuses on a part of hospitality which has been forgotten for a while, where business and requirements from clients have apparently sized up. We are not only selling one of the most modern revenue management systems, we can also help evaluating, planning and implementing any kind of system a hotelier needs to serve the best experience to customers.
What type of clients does your company work for?
The majority of them are individual hotels because it is our mission to support those individuals who cannot afford a revenue and act like a global chain company.
Why did you choose the RMA Alliance?
We know Adriaan very well and the vision behind the RMA to align a world's best class of revenue management companies around the globe in one place fits our vision very well. Being connected to other revenue professionals seems to be an efficient way of improving the department revenue and redefine new standards for future purposes.
Which is the most successful project of your company so far?
We are a young company focused on growing organically and so far 2 clients are already on-board, so the most successful project I would even call is they are happy with the service we provide them.
What was the biggest challenge for your company and how did you overcome/handle it?
So far we have not been blessed with big challenges, but they will come, and when they do, we will do our best: analyzing, defining, actioning, reporting, adapting.
How do you differentiate from your competitors? What makes your company's services unique?
The way we work at rm4u makes us unique as we have a fully automated revenue management system as our technical buddy every day which consolidates and analyses tons of data rapidly and offers the possibility to work and strategically plan with data even before.
Additionally, the way we look at data is different to others. I mean, in revenue management, the majority of time we talk numbers and facts, but also numbers are telling you stories of history, present and future.
How has the Covid Pandemic affected your business?
Covid has reduced the speed of growing for our vision, as hoteliers have not only been dealing with customers requirements anymore, they have also been struggling with existential thoughts and plannings.
As no clients could travel, how should the hotelier pay for a service which normally brings clients for as its best price. Surely this is something where a dog is hunting on its own, but this extraordinary situation required all power of the hoteliers.
Why is now such a good time to invest in technology?
That is quite simple answered as it can be said, technology makes your life even more efficient in focusing on more important things and makes your tasks even faster as you could ever analyze or interpret numbers or tasks.
Technology is not something which is only a temporarily fashion. It is something which defines decades of time and evolution in all areas of life.
A quick example on something everyone knows, the iPhone. Like it or not but take the smartphone as something which has been developed and adjusted for more than 15 years. Thinking back, mobile phone's main features were phoning and texting someone.
No one thought it could be even better than writing letters. After the first iPhone/ Smartphone has been developed, people were enabled to order food, clothes, technical things etc. from online shopping. They were able to book hotel rooms directly whenever they wanted. Let's take technology as something which will enable us to do the things we do more efficiently.
What are the benefits the RMA brings to its members?
The Revenue Management Alliance will bring knowledge to the community based on experiences we gain over time for similar situations, and behaving differently as well as a key role of helping adjusting and improving one of the most modern art of revenue management systems. The RMA will bring a newly defined and evolving environment to its members with insights and intermediate partnerships.
For latest news you can follow the Revenue Management Alliance on social media: Facebook, Twitter, and LinkedIn.
Related posts